---
Online Registration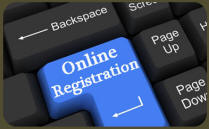 Register Online with our new and easy Online Registration system!

Register Online
Pre-Registration Deadline -
April 22, 2022

Re-Register Dancers

AOS Rules Booklet

---
Host Hotel
Comfort Inn
877 N. 400 W.
Layton, UT 84041
801-544-5577
Rooms for $84.99/night
Mention "Lagoon Dance Competitions America On Stage"

America On Stage
3rd weekend May 21, 2022:
Reservation Link

---
Contact Us!
Contact us with any questions you have. Email is often quickest.

Competition Promoter
Nathan and Suzie Balser
702-218-1405
Email Nathan and Suzie

America On Stage
(801) 224-8334
Email AOS

Email is often quickest!
---
Join us online!



"Like" America On Stage on Facebook and follow AOS on Twitter for all the latest information, pictures, results and more!




---
---
Programs/ Schedules
Know the minute you are going to be on stage with the America On Stage Online Programs!

There are so many different ways we will do this Nationals.
Check the Estimated Schedule for all updates and plans!

Updated Schedule
(Update April 27, 2022)

Director's Packet
(Update April 27, 2022)

Notice the Lagoon Parking
Friday Parking Opens at 9:00 am
Friday Park gates open at 9:00 am

Saturday Parking Opens at 7:30 am
Saturday Park gates open at 8:00 am

Final Programs
(Posts online May 6, 2022)
Musical Theatre Final Program


Dancer's Personal Program
Director's Program
---
Location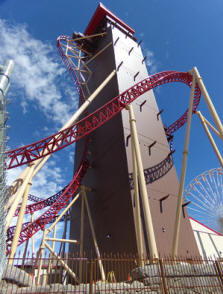 Held at the great Lagoon Amusement Park on 4 stages at
375 North Lagoon Drive
Farmington, Utah 84025

(801) 451-8000

---
Event Details
Musical Theatre Nationals is sponsored by America On Stage along with Utah's COPA and features all singing and theatrical levels from Novice through Advanced. It is open to all and requires no qualifying.

Musical Theatre Nationals is designed to be great competition at a great location! Enjoy the Park while you compete.

Held at the awesome Lagoon Amusement Park and with all our amazing awards, we offer the greatest singing and theatrical competition in the world!
---
---
Registration Fees
Inexpensive fees makes America On Stage events amongst the best!

Solos
Before Reg Deadline $75
After Reg Deadline $90

Duos
Before Reg Deadline $150
After Reg Deadline $180

Group Fees
Before Reg Deadline $19/event
After Reg Deadline $22/event
Day of the event $24/event

---
Nationals Ride Passes!

All competitors must purchase an All-Day Ride ticket.

Get discount tickets for all three days whether you compete or not!

Lagoon is OPEN Friday and Saturday (5/21-22). Tickets are required Friday and Saturday for anyone.


Print/Order your Lagoon Passes here

All Day Ride Tickets
Competitor/Director..........$51.95 + tax
(regularly $71.95)
Family/Friends..........$51.95 + tax
(regularly $71.95)

Admission only
Competitor/Director.........Free with printed competitor pass
Spectator ........................$25.00 /day


Parking..........................$15.00
---
---
Results!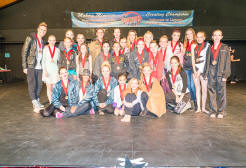 See all the winners!

2022 Age Division and
Overall winners!

SUPERStars
Event SUPERStars and current yearly rankings

Hall of Fame members
America On Stage's Hall of Fame

Thank you for coming!
See you next year!
---
Pictures!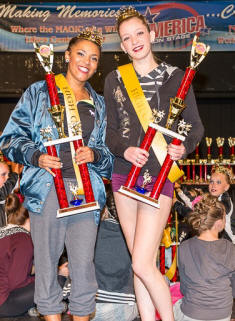 See all the great pictures of from the event!
---
What makes AOS Great?
*
40 years experience
*
Many levels to compete
*
Studio Grants for you!
*
No Admission costs
*
Local events
*
Detailed Program
*
Amazing Awards
*
Every competitor receives an award for each event competed!
*
Special AOS Awards Pins
*
Overall Awards in each level
*
Fast & Friendly events
*
Director friendly
*
So helpful staff
*
No Stress
*
More fun than you should be allowed at competition!
*
and much more...
---